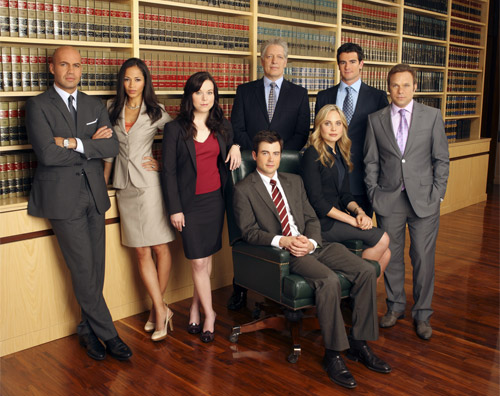 Entertainment-wise, 2010 is off to a strange start. Conan and Leno are fighting over who gets the first of three identical monologues (the jokes will still be the same, but who gets to tell them
first
?)
Jersey Shore
sensation "Snookie" is the
darling of central PA car dealerships
. And yes, that angsty lesbian you heard on the radio is actually Justin Bieber.
But let me tell you about a show I just watched. Five inexplicably attractive twenty-somethings from diverse backgrounds have to navigate a challenging new work environment?
They walk around really purposefully and have lots of sex?
They're surrounded by mentor-type figures who spew wisdom pearls like it's oyster night at Red Lobster?
No. It's not
Grey's Anatomy.
It's
The Deep End,
ABC's answer to that great, great demand we have for a new lawyer drama.
Welcome to Sterling, Huddle, Oppenheim & Craft, where the lawyers are hot, the wine flows freely, and Billy Zane's career is clearly in the tank. Having Billy Zane there is more than a little distracting. It's like, why are you ... here?
I know why: Because he wants to be in
The Deep End.
And yes, it *is
* The Deep End
. "'I know I dropped you in 'The Deep End,'" says Senior Partner Clancy Brown. "But I'll be your mentor....
until you learn to swim."
Later, four of the hot young lawyer stars throw their hot lawyer friend into the pool. "Hey!" they laugh, "we just dropped you in 'The Deep End!'"
The Deep End
tells a story we've been yearning to hear. The story of two women and three brown-haired guys who look exactly alike save that one of them is kind of British.
And if that wasn't enough, get this: Two people we don't care about have to share power so they can sustain a lifestyle that no longer actually exists! One of them is Cliff Huddle, played by Billy Zane. He's mean and frequently threatens to light people on fire. Does it make any sense? No. But anything's game in
The Deep End.
Watching
The Deep End
is sort of like listening to an A-Ha song. You know they're speaking English, but something's a little off. Take those mentors. The pilot of
Grey's Anatomy
featured awesome, iconic moments such as this:
Meredith: You said five rules. That was only four.
Bailey: Rule number five: When I move, you move. (looks at pager and starts running).

In
The Deep End,
it's kind of more like this:
Clancy: Sometimes...a man has to choose between what gets him paid ... and what gets him laid.

Or this:
Clancy: Sometimes ... justice needs a nudge.

So "Clancy" may not be the sharpest tool in the drawer. But hey, that's life in
The Deep End
. Or, as the show's tagline proclaims, "Out of their league. In over their heads. And exactly...where they want to be."
Also, watch out for that Israeli "girl client." I hear she's a real maneater!